Shalom Binchy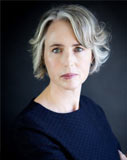 Shalom Binchy Shalom qualified as a Solicitor in 1996 and has over 25 years of experience representing clients in complex cases in Criminal and Mental Health Law. Shalom has represented clients in several ground-breaking cases paving the way for constitutional and legislative reform and increased protection to clients.
Shalom is a member of the Human Rights Committee of the Law Society of Ireland, is a member of the Policing Authority and engages with the Government and other bodies to advocate for reform in the criminal justice system. She is a former Chair of the Society's Criminal Law Committee.
Shalom was also involved in developing and delivering the DCU/Law Society of Ireland Supralat training programme to lawyers in Ireland and Scotland which focused on the Rights of Persons in Custody. Shalom has spoken at conferences on the protection of rights within the criminal justice and mental health legal system.
Shalom founded Shalom Binchy and Co. Solicitors in 2002 and in February 2021 joined Sheehan and Partners as a Partner with the merger of both firms. Shalom has recently been appointed to the Policing Authority.