Damien Coffey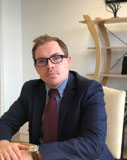 Damien Coffey Having graduated from Business and Legal studies in UCD in 2010 Damien joined the practice in 2011 and qualified as a solicitor in early 2016.
Whilst completing his traineeship Damien worked in the Trial section and worked on trials in the Circuit, Special and Central Criminal Court.
He has worked as an advocate in the District Court section since qualification whilst also working on trials in the superior courts.
Damien is currently a tutor and lecturer on the Law Society Diploma Course. He is also involved with the Law Society Street Law Programme in conjunction with the Law Society and Georgetown University. He is currently pursuing a Certificate in Public Legal Education and has a particular interest in the concepts of alternative legal teaching and solicitor's involvement in the community. This will be Damien's fourth year teaching classes in Wheatfield Prison in conjunction with the Solas Programme.