Damien Coffey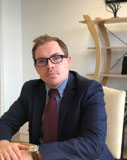 Damien is a Senior Associate/Solicitor with this firm. Having graduated from Business and Legal studies in UCD in 2010 Damien joined the practice in 2011 and qualified as a solicitor in early 2016.
Damien has worked as an advocate in the District Court section since qualification whilst also working on trials in the superior courts. In addition to this work, he has taken a keen interest in specialist areas including:
1. Tusla's investigative procedure
2. The governance of Taxi Licences by the Traffic Division of An Garda Síochana and
3. Garda Vetting and Spent Convictions.
4. Prosecutions by the ODCE and CCPC

Damien regularly presents in-house CPDs on topics including the Criminal Justice (Forensic Evidence and DNA Database System) Act 2014 and the Criminal Justice (Spent Convictions and Certain Disclosures) Act 2016.
Damien continues to work with both the IPRT and the ICCL on projects ranging from Prisoners' Rights to the Right to Protest. He is registered as a pro-bono legal advisor with PILA.
Damien is currently a tutor and lecturer on the Law Society Diploma Course. He is also involved with the Law Society Street Law Programme in conjunction with the Law Society and Georgetown University.