Siobhán Matthews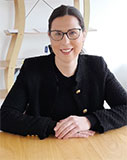 Siobhán Matthews trained in a general practice firm and is a solicitor in our District Court Department, having joined Sheehan and Partners in October 2021. She is a qualified Social Care worker and after completing a postgraduate Diploma in Law from DIT in 2015, she was admitted to the roll of solicitors in December 2020.
Siobhán is primarily based in the District Court Section where she advocates daily for clients in respect of road traffic matters, public order offences, drugs offences, theft and fraud offences, firearms offences and sexual offences. She also regularly advises clients when detained in the Garda Station.
Siobhán has participated in live interviews with a Northside Dublin radio station answering questions sent in by the public. She is fluent in Irish Sign Language and during her traineeship, she was involved in setting up a six-week course with the aim of providing trainee solicitors with the skills to communicate with deaf clients.