Dara Robinson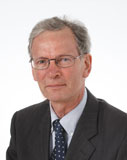 Dara Robinson qualified as a solicitor in London in 1988, and joined Sheehan and Partners in 1992, becoming a partner in 1998. He has handled many of the leading cases in Mental Health Law in Ireland, both civil and criminal, during that time. His practice also covers the entire spectrum of criminal defence work. In particular, he has considerable experience in both England and Ireland of fraud, Revenue and CAB prosecutions. He holds a Diploma in anti-Money Laundering from the ICA/University of Manchester Business School.
He is a former member of the Law Society Council, and has been a member of the Society's Criminal Law Committee since 1998, including a 3 year period as Chairman. He is Vice-Chair of the Society's Regulation of Practice Committee and a member of the Money Laundering Reporting Committee. He is a Chairman of Mental Health Tribunals, a member of DSBA Mental Health Law Committee, and regularly represents patients before the Criminal Law (Mental Health) Review Board at the Central Mental Hospital in Dundrum.
He frequently writes and lectures on criminal law, mental health law and human rights topics, and has contributed a number of chapters to joint Law Society/OUP manuals. He is a member of European Criminal Bar Association and the (UK) Association of Regulatory and Disciplinary Lawyers, as well as being a member of LEAP Advisory Board established by the London based Fair Trials International to provide a Europe-wide network of criminal lawyers.